WordWrite earns 10 awards at 2020 PRSA Pittsburgh Renaissance Awards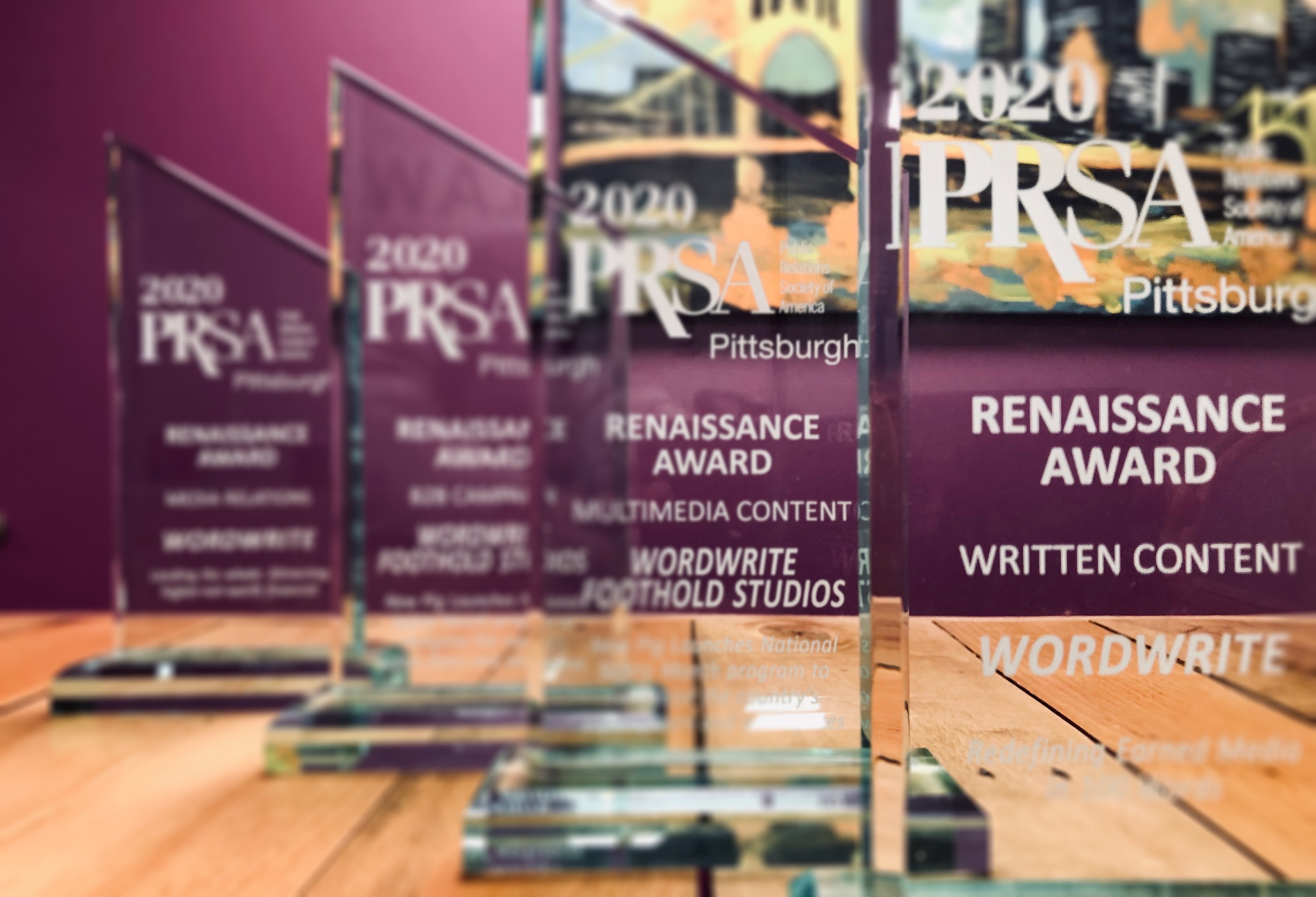 PITTSBURGH (Jan. 31, 2020) — WordWrite, Pittsburgh's largest independent public relations firm, added to its resume of outstanding client work, winning 10 awards at the annual Public Relations Society of America (PRSA) Pittsburgh Renaissance Awards.
WordWrite joined more than 250 industry professionals at Point Park University's Pittsburgh Playhouse to recognize local agencies, companies, nonprofit organizations and individuals for their creative work in the marketing communications industry.
WordWrite received honors for work with Waldron Private Wealth, The Waterfront Shopping Center, New Pig and Caliente Pizza & Draft House. The Waldron Private Wealth campaign was a finalist for Best in Show, earning one of the highest scores among all 100-plus entries. WordWrite also won a Renaissance Award for its in-house brand journalism platform, The Pittsburgh 100.
"I'm extremely proud of our team and the work we've done for our clients in the past year," said Paul Furiga, founder and chief storyteller at WordWrite. "2019 was a big year for us — we moved to a brand-new custom office space, rolled out a new brand and website and posted record growth for the fourth consecutive year. Being recognized by the PRSA community is always an honor and we're looking forward to outdoing ourselves in 2020."
Here's a closer look at WordWrite's winning entries:
Waldron Private Wealth
Waldron was seeking a public relations partner to extend the firm's reach to new audiences. WordWrite was tasked with the ever-challenging PR dilemma — tying tactics to leads and sales. Through a media relations campaign, WordWrite secured more than 118 total placements and helped Waldron land multiple new high-value clients in 2018. This campaign received nearly a perfect score of 98 out of 100 possible points.
The Waterfront Shopping Center
The shopping and entertainment destination in Homestead engaged WordWrite to showcase the retail development as a top choice for up-and-coming fashion trends and unique experiences, while also providing its audience with fresh, cohesive content. WordWrite deployed an influencer marketing campaign that reaffirmed The Waterfront's position in the marketplace, reaching millions of Pittsburgh shoppers by increasing email subscribers by 30% and website pageviews by 67% during the past year. WordWrite worked with local influencer Kate Benz to create customized videos, attracting new shoppers online and to Homestead.
New Pig Corporation (in partnership with Foothold Studios)
New Pig Corporation retained WordWrite and Foothold Studios to raise awareness for its game-changing product, the PIG Grippy Floor Mat. Using a multimedia press release and a series of case study-style videos as the foundation of the campaign, it yielded more than 15.5 million impressions, with the social media and video components reaching more than 300,000 users. The campaign received five awards in the following categories: B2B Campaign, Content Marketing, New Products & Services, Multimedia and Written Content.
Caliente Pizza & Draft House
WordWrite helped the local restaurant chain elevate its status in the market with a media relations strategy that secured 89 positive news stories — including its honor for Best Pizza in America. Caliente's sales increased nearly 40% from the previous year. WordWrite's work received awards in Media Relations & Reputation Management.
The Pittsburgh 100
Newsrooms are shrinking and circulation numbers are declining on a daily basis. Traditional media outlets are struggling. As part of its brand journalism initiatives, WordWrite redefined earned media with its own publishing platform, The Pittsburgh 100. The bi-weekly newsletter of 100-word stories reaches more than 46,000 email subscribers and is supplemented by a website, social media strategy and podcast. (Become a subscriber here.)
The PRSA Pittsburgh Renaissance Awards received more than 100 entries. Entries were judged by PRSA members of the West Michigan chapter.
This year's event was emceed by John Chamberlin and Rachael Rennebeck, co-hosts of the YaJagoff! Podcast and partners in YaJagoff Media. WordWriter Robin Rectenwald chaired the event, which WordWrite also sponsored.
See the full list of winners here.
About WordWrite
WordWrite is an award-winning strategic public relations, digital and inbound marketing agency. WordWrite helps clients uncover, develop and share their Capital S Story, the one that reveals why someone would work with, partner with, or work for them. For more than 19 years, WordWrite has advised health care, manufacturing, nonprofit and professional services businesses, including Fortune 100 companies, with services ranging from crisis communications to product launches. WordWrite clients include Caliente Pizza & Draft House, the Carnegie Library of Pittsburgh, Light of Life Rescue Mission, McClintock & Associates, Meyer, Unkovic & Scott, New Pig, Pfizer Inc., Waldron Private Wealth, The Waterfront and the YMCA of Greater Pittsburgh. To learn more, visit www.wordwritepr.com.