WordWrite earns 2 awards at 2021 PRSA Pittsburgh Renaissance Awards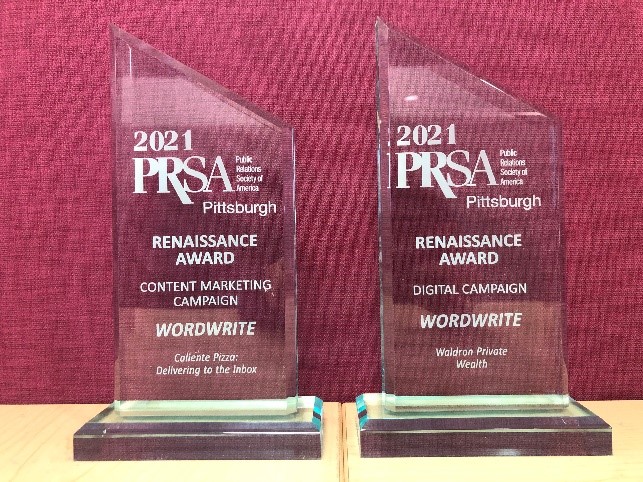 PITTSBURGH (February 16, 2021) – The WordWrite team won two awards at the first-ever virtual Public Relations Society of America (PRSA) Pittsburgh Renaissance Awards for its exceptional client work.
WordWrite joined more than 100 industry professionals during an online Zoom event to recognize local agencies, businesses, nonprofit organizations and individuals for their innovative work in the public relations and marketing communications industry.
WordWrite received Renaissance Awards for its content marketing efforts with Caliente Pizza & Draft House and its digital marketing campaign with Waldron Private Wealth.
"I'm very proud of the work our team has accomplished for our clients while adjusting to the new normal," said Paul Furiga, founder and chief storyteller at WordWrite. "We have been working hard to produce valuable results for our clients and to overcome adversity within the past year. It is always a great honor to be recognized by our local PRSA chapter, and we're excited to continue learning and growing as communications professionals."
A closer look at WordWrite's winning entries:
Caliente Pizza & Draft House
With many small businesses closing in the U.S. due to the COVID-19 pandemic, WordWrite implemented an email marketing campaign so Caliente Pizza & Draft House could connect and engage with its consumers directly. After sending 23 emails to nearly 14,000 people, Caliente's informative and fun newsletter received an average open rate of 22%, a 0.3% unsubscribe rate and an average click-through rate of 1.43%, beating national benchmarks. This proved that Caliente's customers were opening and reading the emails.
In addition to providing updates on menu options, takeout options and dine-in status, the newsletter was also integral in driving customers to participate in the company's first 'free pizza for a year' sweepstakes, as well as a contest to meet NFL great Santonio Holmes — with WordWrite assisting with each campaign. During a difficult year, the digital outreach kept Caliente top of mind for customers while building customer loyalty.
Waldron Private Wealth
In helping Waldron remain the top advisory firm in the region for high-net wealth individuals and families, and to expand its reach outside of Pittsburgh, WordWrite devised an inbound marketing campaign to increase sales through high-quality content. Through paid search, display and social advertising that targeted the Pittsburgh region and several other focus areas outside of Western Pennsylvania, WordWrite was able to drive hundreds of thousands of impressions for Waldron's website and associated landing pages. The digital marketing methods were so successful, Waldron was able to secure two new clients due to this campaign alone.
PRSA Pittsburgh honored over 30 individuals and agencies at the virtual award ceremony, which was emceed by Josh Taylor, a sportscaster for KDKA-TV and weekend morning sports talk radio host with "The Fan."
About WordWrite
WordWrite connects providers of complex services to leaders of middle-market companies. Our trademarked StoryCrafting process helps organizations uncover, develop and share their Capital S Story, which reveals why someone would buy from, work for, partner with or invest in them. For two decades, WordWrite has consistently earned awards for its public relations, strategic communications, digital marketing and crisis communications work.