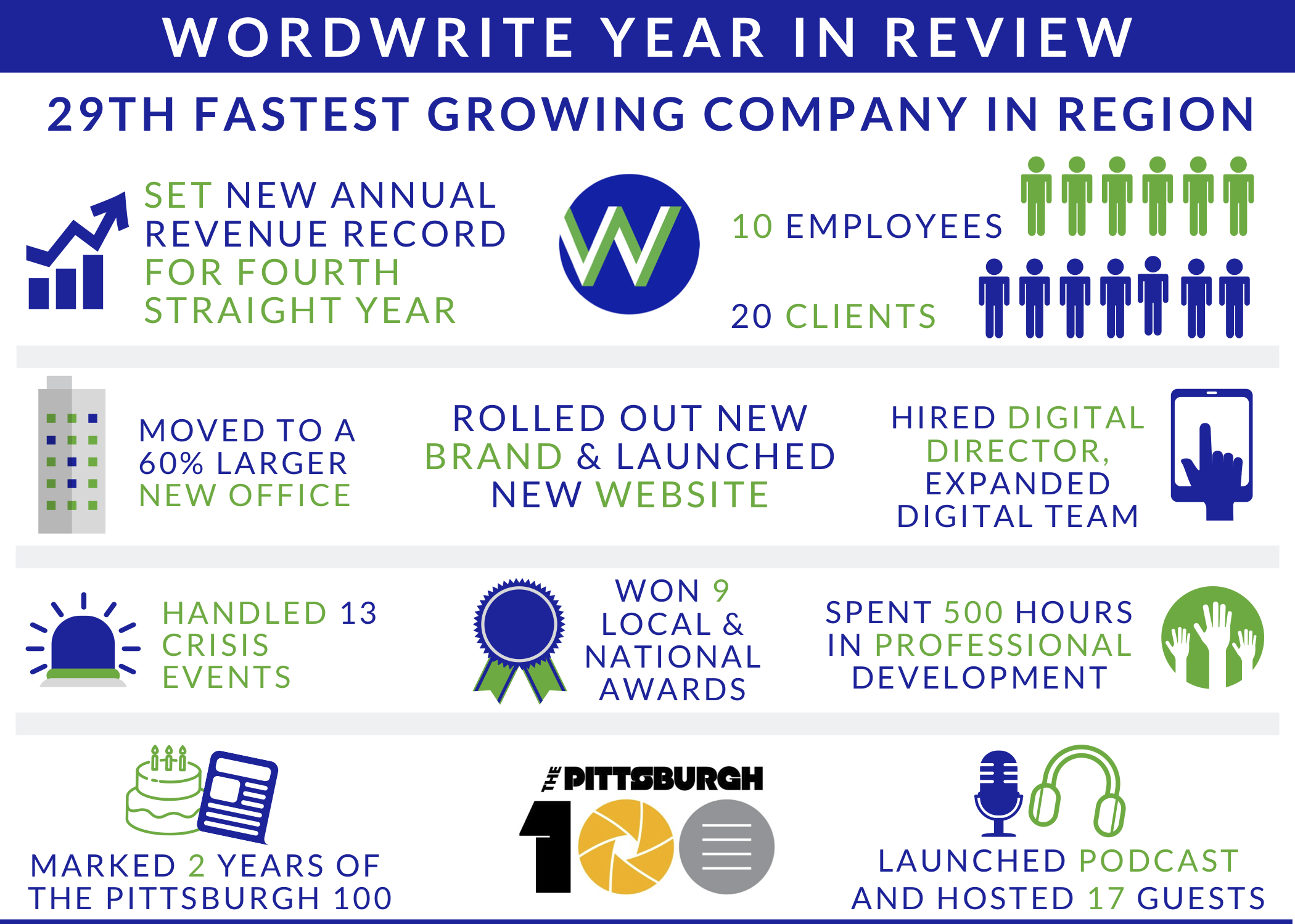 We thought 2018 was a big a year for WordWrite. In 2019, our 18-year-old story continued to delight us with twists and turns.
From a new brand to a new office and a Pittsburgh 100 podcast, we're so proud of what our team has been able to accomplish this year. Check out some of our 2019 highlights.
We moved to the original Alcoa Building
Did you know Paul Furiga started WordWrite in a small bedroom in his house? In 2019, WordWrite moved for the fourth time in its history to a customized 5,000 sq. ft. office in the historic Alcoa Building at 611 William Penn Place.
We rolled out a new brand
For the first time in its 18-year history, WordWrite rebranded! Thanks to Rachel Booth of RelyOn Creative, we love our new look!
We launched a new website
With a new brand, we needed a new website to showcase our story. Our WordWrite team worked hard to design a new website in-house, developed and hosted in HubSpot. Be sure to check it out if you haven't already. We're excited to launch new features and content in the new year!
We launched a podcast
The Pittsburgh 100 celebrated its second anniversary in 2019 and with so much success, we decided to bring our stories to life through the P100 podcast. Since August, we've released eight episodes and hosted 17 guests. If you're interested in working with us, reach out to our editor, Dan Stefano, at editor@thepittsburgh100.com.
We began a new volunteer program
In 2019, we formalized a program to give our team the opportunity to give back to the community. We began the year partnering with United Way of Southwestern Pennsylvania and participating in a few of their volunteer and donation programs including the Big Book Drop, Day of Caring and Holiday Hope.
In March, we sorted and packed books at WorldVision as part of United Way's Big Book Drop, which delivers 100,000 books to children across the Pittsburgh region. For back-to-school season, WordWriters collected school supplies to celebrate Day of Caring. From notebooks to pens, binders, highlighters and paper, we helped make sure local students have the materials they need to share their own stories. In December, we helped the families and women by donating sheets, blankets, comforters, pillows, towels and other essential households goods.
And finally, in appreciation for our clients and the great work we do together, we made a financial contribution to the Greater Pittsburgh Community Food Bank to support those in our community faced with food insecurity.
We continue to grow, and fast
For the fourth consecutive year, we set a new revenue record and we were recognized by the Pittsburgh Business Times as the 29th fastest growing company in the region. Our team consists of ten WordWriters, including a digital team! Meet our team here!
We have some exciting news coming in 2020 so keep an eye on our website, our monthly WordWriter, social media channels and The Pittsburgh 100 for exciting new developments.
Most importantly, we're looking forward to continuing to work with our clients and community partners – it is because of their support and collaboration that we've been able to achieve so much success. From all of our WordWriters, we wish you a prosperous and happy New Year!