Paul discusses the importance of Capital S Stories on Christoph Trappe's podcast, "The Business Storytelling Show"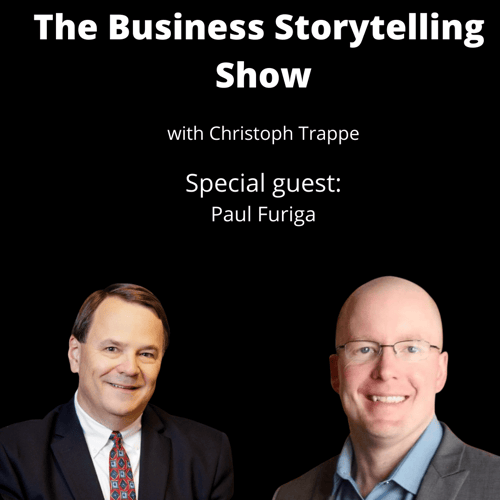 PITTSBURGH (January 5, 2022) — On the latest episode of Christoph Trappe's "The Business Storytelling Show," Paul Furiga, President and Chief Storyteller of WordWrite, takes listeners through the process of uncovering a brand's Capital S Story — the focus of his recent book, "Finding your Capital S Story: Why your Story Drives your Brand." Furiga discusses the main difference between "stories" and Stories, which ultimately boils down to their ability to answer four critical questions for clients: Why somebody should buy from them, work for them, invest in them and partner with them.
Furiga and Trappe also discuss the biological and historical evidence behind successful storytelling, and why identifying common archetypes in clients' stories makes them more recognizable and relatable for audiences.
You can listen to the episode, "Author chat: Why your story drives your brand [Paul Furiga]" on The Business Storytelling Show website and podcast sites such as Apple Podcasts, Spotify and Google Podcasts.
About Christoph Trappe and the Podcast
Christoph helps companies evolve their content-performance culture based on his Create One, Publish Everywhere (COPE) model. Over the years, he has helped clients run content marketing campaigns across various industries such as healthcare, nonprofits, publishing, technology and SaaS. His podcast, The Business Storytelling Show, was listed as a top 20 storytelling podcast in 2021 and a top 5% podcast to listen to globally, out of two million podcasts around the world.
About WordWrite
WordWrite is an award-winning strategic public relations, digital and inbound marketing agency in Pittsburgh. WordWrite helps companies uncover, develop and share their Capital S Story, the most important marketing tool companies have, to reveal why someone would do business with them, partner with them or work for them. For more than 18 years, WordWrite has advised healthcare, manufacturing, law, nonprofit and professional services businesses, including Fortune 100 companies, with services from crisis communications to content creation. To learn more, visit www.wordwritepr.com.