As we say goodbye to 2020, we look back with positivity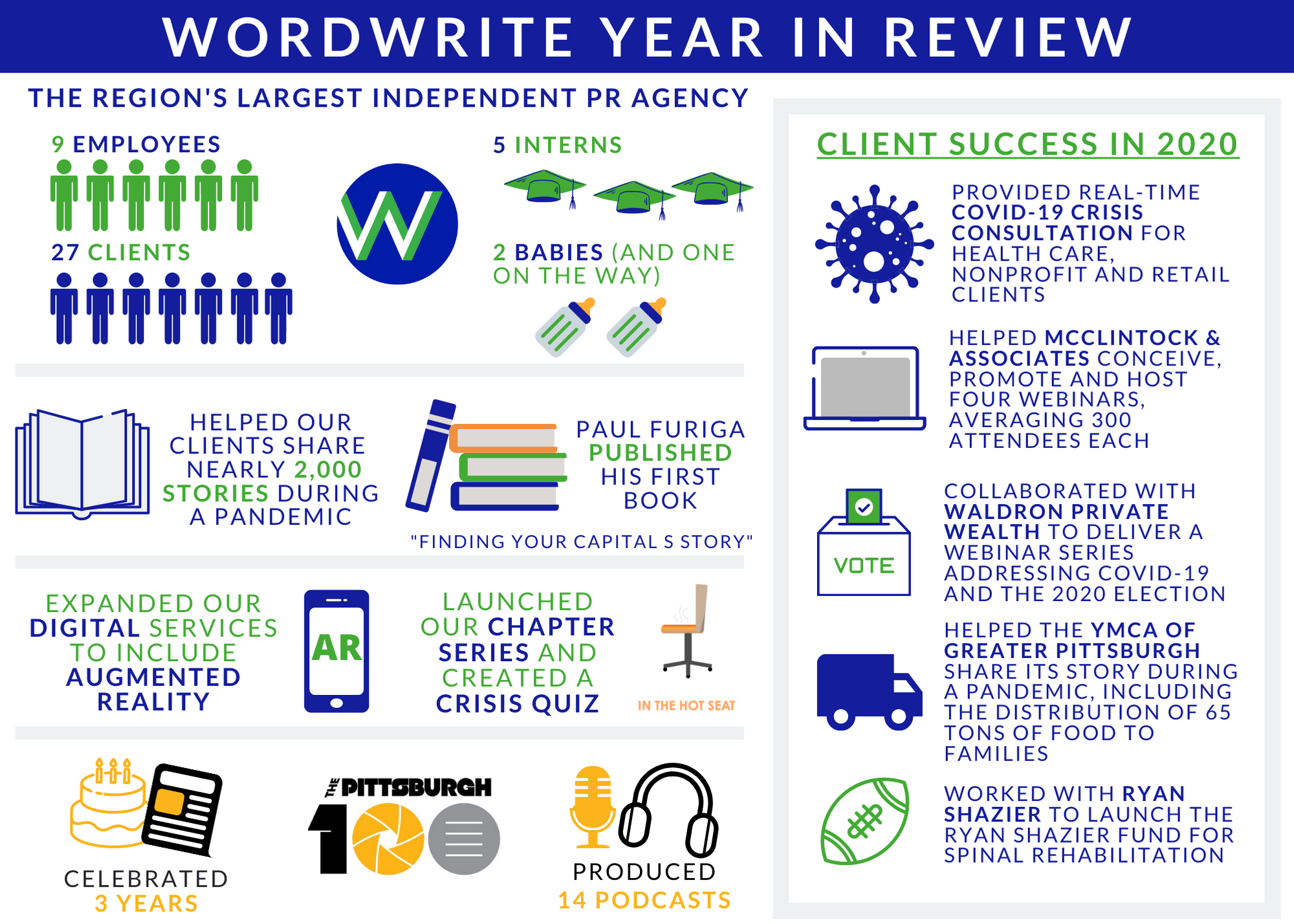 How do you top a year that included a new brand, new website, new office and new podcast?
That's what WordWrite's 2019 looked like, so we knew we'd have big shoes to fill in 2020.
Then March hit.
And like the rest of the world, we had to "pivot" — with success. Despite the challenges presented by the pandemic, we come to the end of the year grateful for what we were able to accomplish for ourselves as an agency and for the value we were able to provide to our clients.
Here are some of the highlights from our year:
The year of new authors
We celebrated our president and chief storyteller's birthday with the much-anticipated announcement of his first published book. On December 2, Paul Furiga's "Finding Your Capital S Story: Why your Story Drives your Brand" print book and e-book became available on Amazon. We've been working on some announcements behind the scenes, so stay tuned for more in 2021!
We also helped our client John Waldron, CEO and founder of Waldron Private Wealth, promote his first book, "The Entrepreneurial Journey."
The year of webinars
When the world was shut down, we helped our clients continue to communicate their thought leadership almost immediately after the pandemic hit. We hosted a total of 14 webinars for clients including McClintock & Associates, Waldron Private Wealth and New Pig.
We also hosted three of our own webinars focused on crisis communications and our newest digital marketing capability – augmented reality. You can watch those webinars on demand below.
The year of 'pivoting'
We know "pivot" has become one of the most overused words in 2020, but it really is an accurate description of what all businesses had to do this year.
So many of our clients faced a number of challenges, and we were honored to stand by their sides as consultants and partners to work through internal and external communication challenges.
To name a few, Caliente Pizza & Draft House, Carnegie Library of Pittsburgh and the YMCA of Greater Pittsburgh were forced to close their doors to the public for months, but behind the scenes, each organization was working hard to continue to provide services (and America's Best Pizza) to the community. Within weeks after the shutdown, the Carnegie Library and YMCA launched new digital services. Carnegie Library has a number of student, teacher and parent resources, including a new chatbot feature to easily connect with librarians. The YMCA not only launched YLive but created an entire COVID-19 relief effort. Caliente Pizza launched a new email newsletter to keep customers up to date on the pandemic restrictions and their offerings. You can sign up for it on their website here.
We also spent a lot of time helping our clients keep consistent communications with their clients. For example, we helped law firm Meyer, Unkovic & Scott curate content to keep clients up to date on pandemic-related issues that affect businesses. Take a look at their COVID-19 resources page here.
While some industries took a hit, others saw a big spike in opportunity. Take, for example, Three Wire Systems, a technology company that specializes in cybersecurity. When it was reported there was a 667% increase in coronavirus-related email phishing campaigns, they took charge. We helped them secure this article in Security Magazine. And with mental health becoming a big concern in 2020, Three Wire's subsidiary, MyAdvisor, made sure to advocate for the importance of access to mental health through a number of opinion articles, including this op-ed in the Trib.
The year of teamwork
While our team has been "socially distancing" for the majority of the year, we continue to stay connected every single day (thanks, Zoom). But we haven't gotten comfy in our home offices. Throughout the year, we've been churning out new content, inbound marketing campaigns and social media ads for one special company — our own.
This year, we launched two campaigns.
As the Agency of Story, we developed a new service line called Chapter Series. For businesses that may not be ready to share their entire story, we can start with their first chapter. We offer a number of communication trainings and audits to help clients focus on specific areas.
We certainly couldn't have done all of this work without our interns. We were fortunate to continue to provide remote internship opportunities to PR and marketing students. Shout out to our 2020 interns, all of whom made big contributions to our work this year – Sydney Beam (Duquesne University), Maggie Lewis (Ball State University), Emma Trimbur (Elon University), Emily Sjoberg (Point Park University) and SeVohn Hunter (West Virginia University).
The year of babies
Speaking of our special team members, we had two WordWriters give birth this year: Keira Koscumb, our digital director, gave birth to Jack Anthony Koscumb on January 14, and Erin Hogan, account supervisor, had her daughter, Lucy Jane Hogan, on October 25.
And the trend just keeps going. Dan Stefano, brand journalist, and his wife are expecting July 2021.
The year of giving
As 2020 comes to a close, the WordWrite team extends its appreciation to our clients for the opportunity to help share their great untold stories. On behalf of all our clients, colleagues and friends, a contribution has been made to both Light of Life Rescue Mission and the Greater Pittsburgh Community Food Bank.
While we can't predict how 2021 will measure up to this past year, at least we've learned one lesson — we can tackle any challenge thrown our way.
Happy holidays, everyone! We'll see you in the New Year!