Marketing lessons from Miracle on 34th Street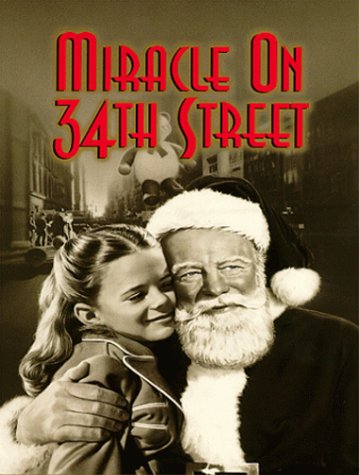 This past Thanksgiving, my family kicked off the Christmas season in our traditional fashion by tuning in to our favorite holiday movie: Miracle on 34th Street. For those of you who haven't seen the film (tsk-tsk), the plot follows Kris Kringle, an old man living in the image of Santa Claus and his fight to prove his true identity. Kris begins his journey as a last-minute stand-in for the Macy's Santa Claus, where he meets Ms. Doris Walker, the special events director hired by Mr. Macy himself to direct the Thanksgiving Day parade (which, as a side note, is a pretty kick-ass role for a female to have in 1947 – you go Maureen O'Hara). Believing he is in fact the one and only Santa Claus, Kris is eventually suspected of lunacy, and is subject to a commitment hearing to determine his fate. The story of course ends with Ms. Walker and the rest of the cast proclaiming their belief in Kris and the court rules that he is the true Santa Claus … who would have thought Christmas would be saved once again?
While the core plot is fun and lighthearted, there is an interesting sub-story within the film that inspired me to write this post.
During his time portraying the Macy's Santa Claus, Kris refuses to bend to the temptations of modern commercialism, and even sends shoppers to other stores if Macy's does not carry a specific item requested by a child. The result (which was unexpected by Ms. Walker and her colleagues) was undying gratitude from customers for putting the spirit of Christmas first.
Mr. Macy is of course thrilled by this newfound customer loyalty, and vows to expand the initiative to other stores.
"If we haven't got exactly what the customer wants, we'll send him where he can get it. No high pressuring and forcing a customer to take something he doesn't really want," Macy says. "We'll be known as the helpful store, the friendly store, the store with a heart – the store that places public service ahead of profits."
Many of you probably realize where this is going, but I'll summarize for you anyway. The core goal that Mr. Macy has reached with the help of Kris is quite relevant to what we as marketers strive to achieve with every campaign we deploy: hit the consumer with the right message, in the right place, at the right time.
Expand upon that, you ask? Don't mind if I do. In the spirit of the season, I've taken some time to jot down a few takeaways from this film that I hope will be helpful for your future marketing endeavors. (Yes, I did get to watch the movie as research for this post.)
Beware of goodwill campaigns
Perhaps "beware" is a little harsh, but any good PR/marketing pro knows that goodwill or cause-marketing campaigns can backfire extremely quickly. Take for example the Wal-Mart Thanksgiving food drive fiasco that went viral after consumers found out that those benefitting from the food drive were also Wal-Mart employees. The company ended up looking like a fraud and Wal-Mart's public image was marred for much of the holiday shopping season.
The most important thing to remember when instituting a charitable campaign is to keep your messaging authentic to your brand and avoid capitalizing on other people's misfortune. This sounds simple in theory, but it's amazing how many companies miss this piece. Also, be thoughtful in your promotion of your efforts – only share the information that paints a favorable image of your company. Believe me, no one wants to see a news story about Ebenezer Scrooge giving one lonely penny of his fortune to Tiny Tim.
Utilize guerilla marketing appropriately, not excessively
Although it was unintentional in the movie, Kris' plan to exhibit his inner Christmas spirit while working as the Macy's Santa Claus was a great example of guerilla marketing done right. The execution was realistic, and the right message was served up to the perfect subset of Macy's core demographic: moms.
The key to successful guerilla campaigns is to focus on engaging small audiences and keep the tactics to a minimum. It's also important to avoid creating a campaign that's so covert your audience doesn't recognize the brand. And please, enough with the flash mobs – when are people going to realize those are so been-there, done-that?
Keep the press on your good side
There is a portion of the film when Fred Gailey, Kris' attorney and Ms. Walker's neighbor, realizes that he needs to get the press on his side in order to sway public opinion during the commitment hearings. The next few scenes show a series of headlines shaming the State of New York for putting Santa Claus on trial for lunacy so close to Christmas Eve.
In crisis situations, we talk a lot about "controlling the message" and "getting out in front of the story" to ensure our clients are being represented accurately in stories that will eventually hit newsstands. This is exactly what Mr. Gailey did to help save Kris from potential scrutiny – he knew the press would be all over such a timely case so he opted to get to them first.
Unfortunately, for some brands out there, the story doesn't always turn out like Kris'. Sometimes companies fail to articulate the right message, and the brand ends up looking disingenuous. But the important thing to remember is that with every failed attempt there is a lesson learned. Keep your tactics simple and targeted and hopefully you'll find your happily ever after, too.
Interested in learning more about our public relations and marketing offerings? Poke around our site for more details, and drop me a line if you have any questions.
Photo Credit: Twentieth Century Fox